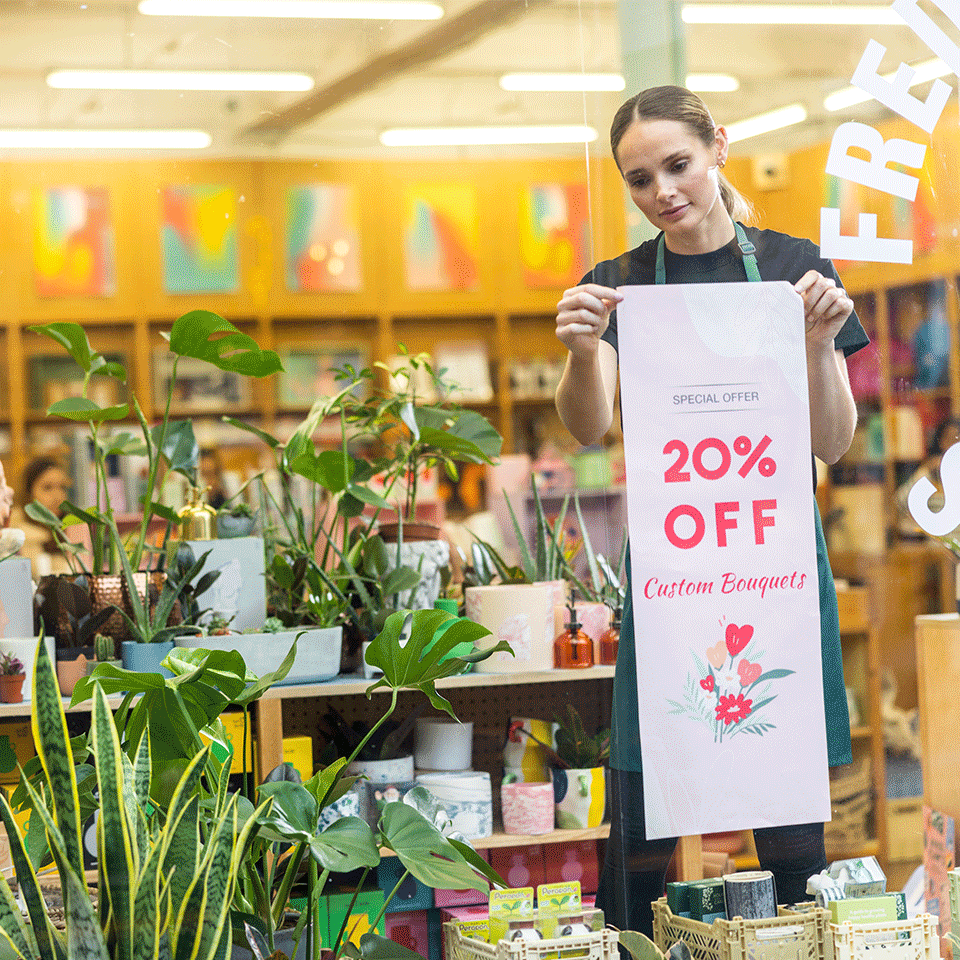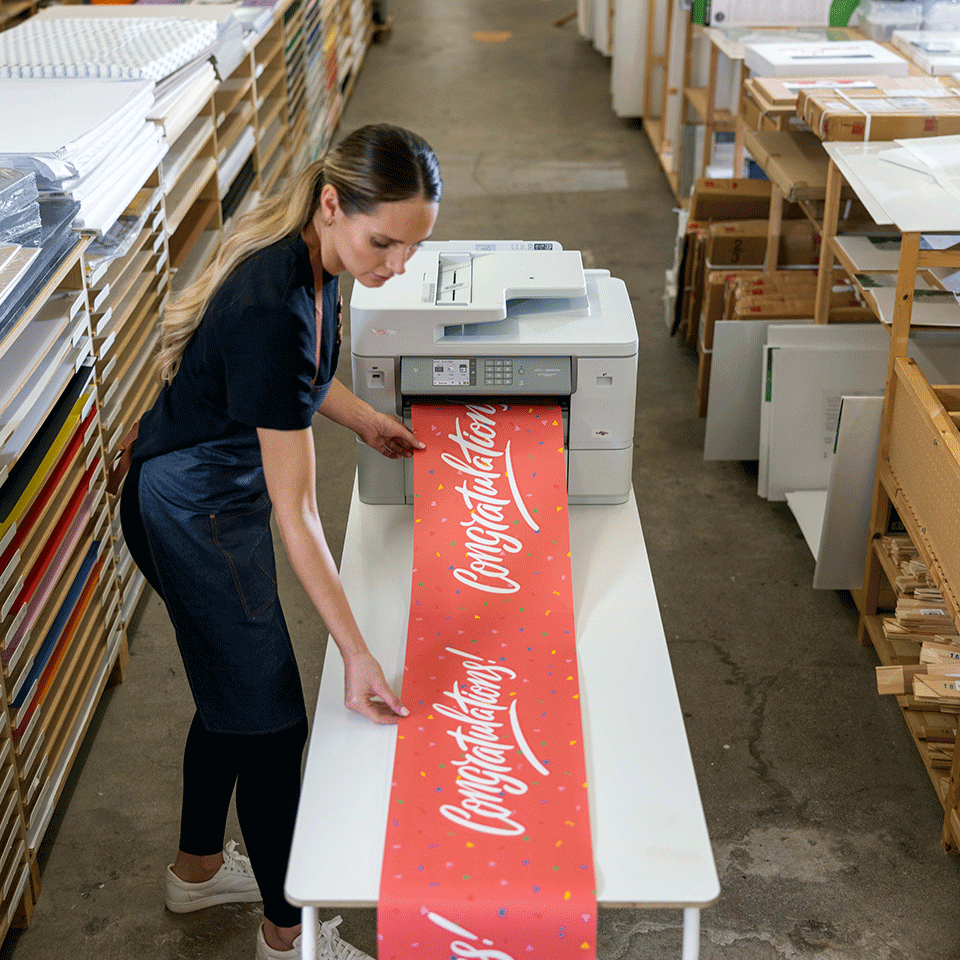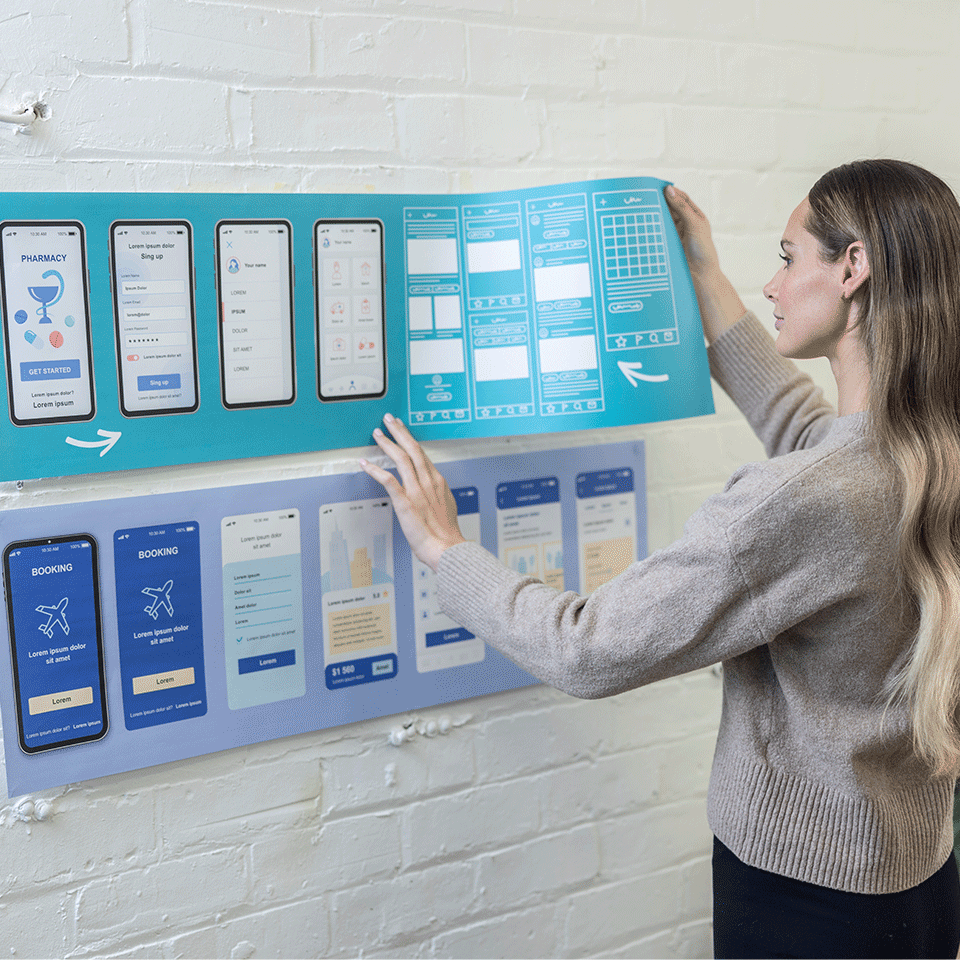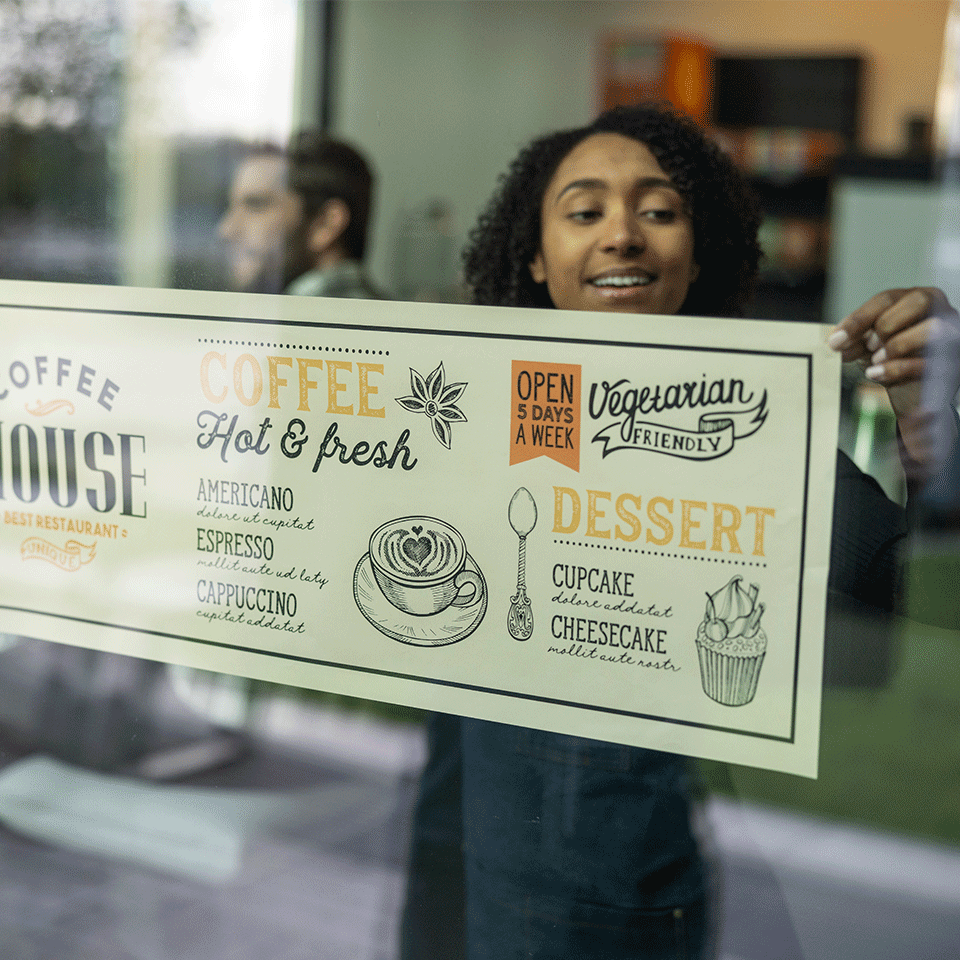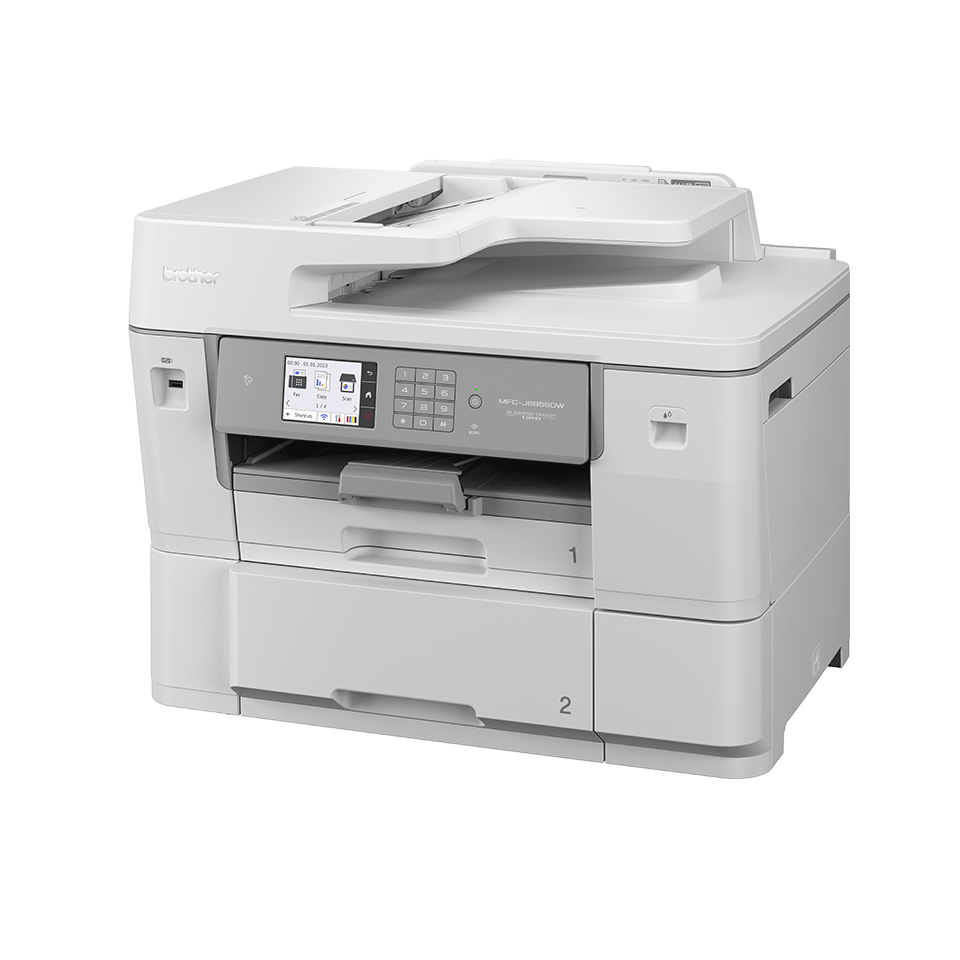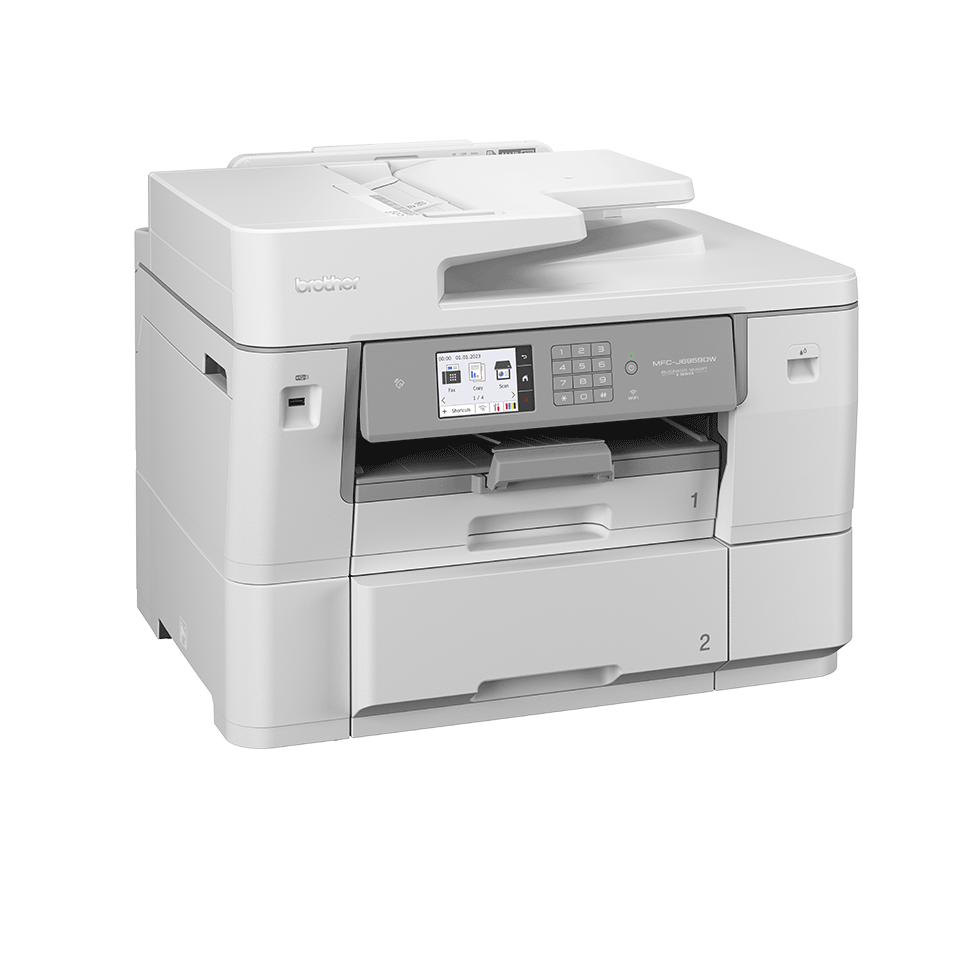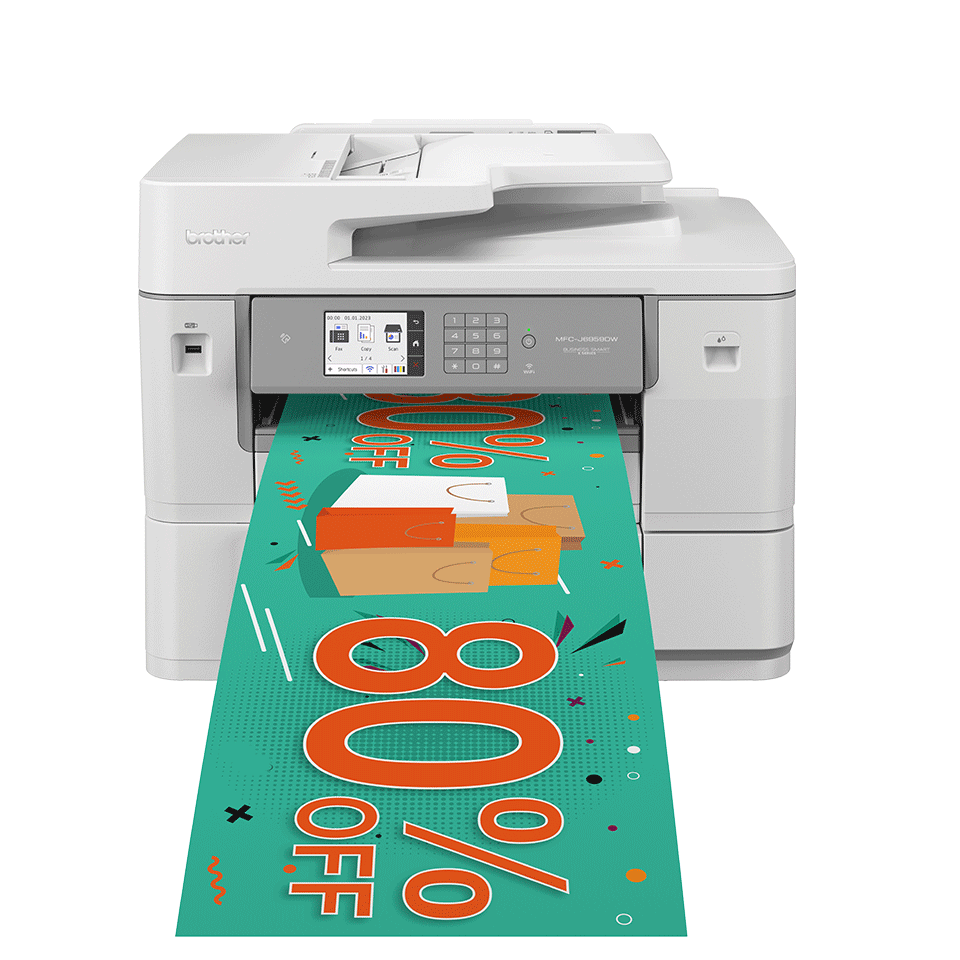 Brother MFC-J6959DW Professional A3/large format inkjet wireless all-in-one printer
Compact and multifunctional, large format printer. Designed for businesses needing a flexible printer that can print, copy, scan and fax with the added benefit of printing on long format roll paper.
Détails du produit
Up to 30ipm print speed (based on ISO/IEC 24734)

Automatic 2-sided A3 print, scan, copy and fax

Roll paper or 500 A4 sheet lower tray

Automatically cut roll paper to any length

Borderless printing

3 months free trial of Shoppa Go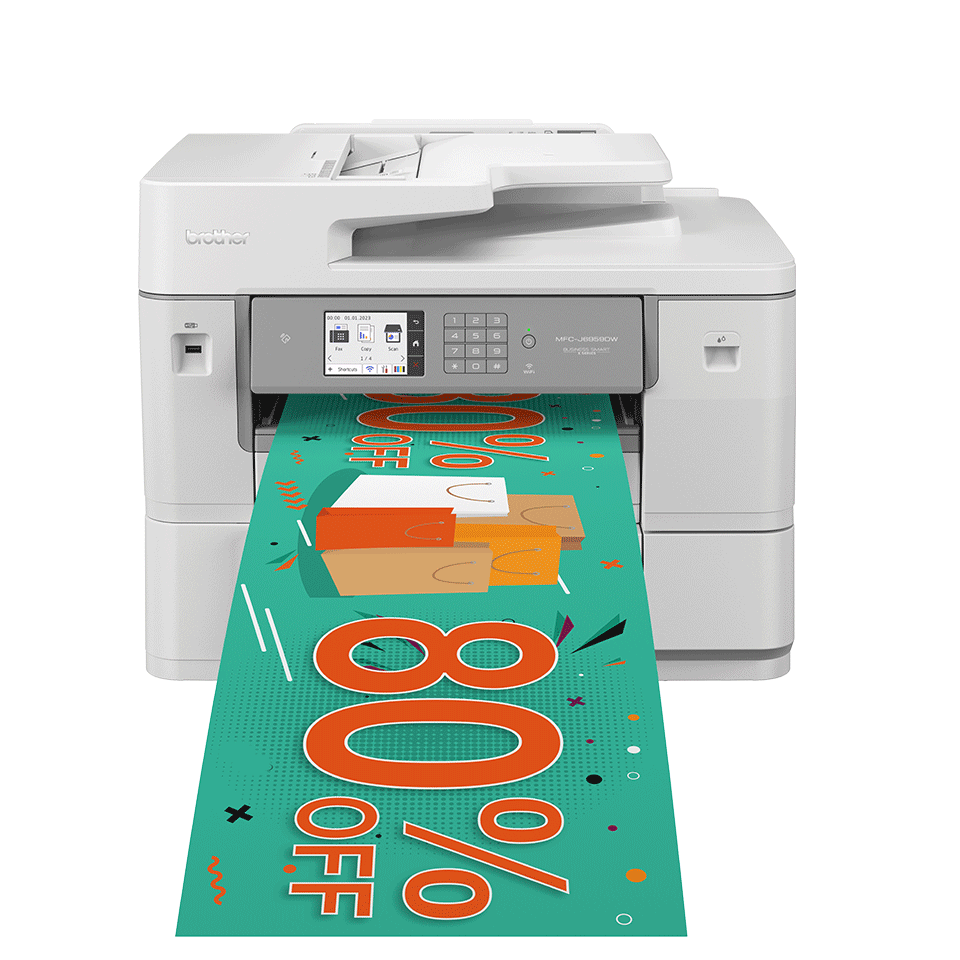 Présentation du produit
The MFC-J6959DW provides premium quality A3 and A4 printing and scanning with the ability to print on roll paper. Easily print banners, posters, panoramic photos and promotional signage, then cut to the required length with the automatic cutter.
Fast Wired Ethernet connectivity
2.4/5GHz Wireless with Wi-Fi direct and Wi-Fi Protected Setup (WPS)
Business security features as standard
Next generation advanced printhead technology
Built to last with robust and durable design
Fast automatic 2-sided scan A4 up to 36ipm mono and colour
Optional high yield inks printing up to 6000 pages black and 5000 pages colour
Specifications
General
| | |
| --- | --- |
| Printer Type | Couleur |
| Function | Copier, Couper, Télécopier, Imprimer, Numériser |
| Technology | Jet d'encre |
| Maximum Paper Size | A3 |
| Connectivity | Ethernet, Wi-Fi |
| Memory | Interne (512 Mo) |
| Control Panel | Écran tactile |
| Display | Non (Écran tactile couleur de 8,8 cm), Oui |
Printing (1)
| | |
| --- | --- |
| One Sided Print Speed A4 Mono | 30 |
| Two Sided Print Speed A4 Mono | 21 |
| First print out time (2) | Moins de 4,6 secondes à partir du mode prêt |
| Automatic 2 sided print | Oui |
Drivers
| | |
| --- | --- |
| Printer Drivers | ChromeOS (Supports native ChromeOS printing), Linux (CUPS, LPD/LPRng (x86/x64 environment)), macOS (10,15,x), Windows (10, 11, 7, 8, Server), Server (2008, 2008 R2, 2012, 2012 R2, 2016, 2019), Visit support,brother,com for the full list of supported OS and to download the latest drivers and software, |
Paper Handling (11)
| | |
| --- | --- |
| Paper input | Bac universel (100 feuilles), Bac standard (250 feuilles), ADF (chargeur automatique de documents) (50 feuilles), Bacs inférieurs (500 feuilles) |
| Paper output | A4 (100 sheets) |
| Sizes | Standard (Bac 1) (A5, EXE, A5, A6, Photo (10 x 15cm), Indexcard (13 x 20cm), Enveloppe C5, Enveloppe DL, Com-10, Monarch, LGR, LGL, Folio, Mexico Legal, India Legal, A3), Bac polyvalent (A5, LTR, LGR, LGL, A3, A5, A6, Folio, Indexcard (13 x 20cm), Photo (10 x 15cm), Photo-2L (13 x 18cm), Photo-L (9 x 13cm), Monarch, Enveloppe DL, Enveloppe C5, Mexico Legal, India Legal, EXE, Com-10), Chargeur automatique de documents (Longueur : 148 à 355,6 mm, Largeur : 105 à 215,9 mm), Bac inférieurs (A5, LTR) |
| Media Types and Weights | Standard (bac 1) (64 - 220g/m2), Chargeur automatique de documents (64 - 120g/m2), Bac polyvalent (64-220 g/m2), Bac inférieurs (Papier ordinaire) |
Copying
| | |
| --- | --- |
| One Sided Copy Speed A4 Colour | 16 |
| One Sided Copy Speed A4 Mono | 25 |
| Copy Functions | Taux d'agrandissement/réduction, Effectuer des copies N en 1 |
Scanning
| | |
| --- | --- |
| Colour And Mono Scanning | Oui |
| Resolution | ADF (Monochrome, Couleur), Monochrome (601 x 600dpi), Couleur (300 x 600dpi), Interpolé |
| One Sided Scan Speed A4 Colour (3) | 25 |
| One Sided Scan Speed A4 Mono (3) | 25 |
| Two Sided Scan Speed A4 Colour (3) | 36 |
| Two Sided Scan Speed A4 Mono (3) | 36 |
Faxing
| | |
| --- | --- |
| Fax | Envoi et réception de fax par PC, Fax automatique recto-verso |
Supplies And Accessories (9)
| | |
| --- | --- |
| Cartridges | BK (LC427BK - 3000 pages, LC427XLBK - 6000 pages), C, M, Y (LC427CMY - 1500 pages, LC427XLCMY - 5000 pages) |
Carton Contents
| | |
| --- | --- |
| Carton Contents | Cordon d'alimentation, Guide d'installation rapide, Guide de sécurité du produit, Garantie, Consommables, Guide de l'utilisateur |
Dimensions And Weights
| | |
| --- | --- |
| Dimentions With Carton | 681mm (W) x 561mm (D) x 569mm (H) |
| Weight With Carton | 34.8 |
| Dimentions Without Carton | 576mm (W) x 477mm (D) x 445mm (H) |
| Weight Without Carton | 28.6 |
Operating Environment
| | |
| --- | --- |
| Sound Pressure | Impression (51,0 dB) |
| TEC Value | 0.3 |
| Operating | Humidity % (20 - 80%) |
Solutions
| | |
| --- | --- |
| Solutions | Brother Solutions Interface (BSI) |
Connectivity
| | |
| --- | --- |
| Wireless network interface | 2.4GHz : IEEE 802.11b/g/n, 5GHz : IEEE 802.11a/n |
| WiFi Direct | Oui |
| Wired Interface | 10BaseT/100BaseTX |
| Wireless Network | 2,4GHz : IEEE 802,11 b/g/n (mode infrastructure), IEEE 802,11 g/n (Wi-Fi Direct), 5GHz : IEEE 802,11 a/n (mode infrastructure) |
Mobile Connectivity
| | |
| --- | --- |
| Mobile and Web Connectivity | Apple AirPrint, Brother Print Service Plugin, Mopria®, Brother Mobile Connect |
Security Features
| | |
| --- | --- |
| Features | Contrôle d'accès réseau basé sur les ports, Verrouillage sécurisé des fonctions v3, Verrouillage des paramètres, Détection automatique des intrusions, Restriction des protocoles de réseau, Micrologiciel à signature numérique |
| Wired Network Security | SSL/TLS (IPPS, HTTPS, FTPS, SMTP, POP4, IMAP5), APOP, SMTP-AUTH, SNMP v4, Kerberos, IPsec |
| Wireless network security | SSL/TLS (IPPS, HTTPS, FTPS, SMTP, POP4, IMAP5), WPA-PSK (TKIP/AES), WPA2-PSK (TKIP/AES), WPA3-SAE (AES) *Wi-Fi Direct prend uniquement en charge WPA2-PSK (AES), APOP, SMTP-AUTH, SNMP v4, Kerberos |