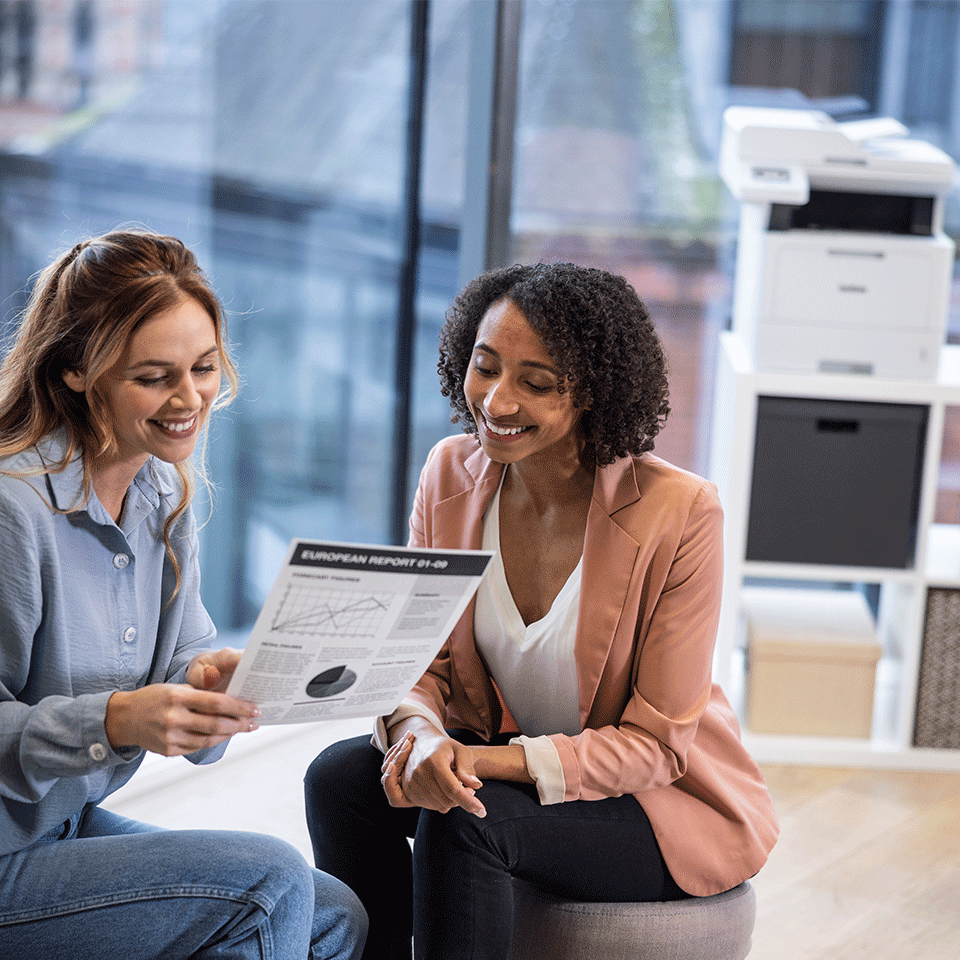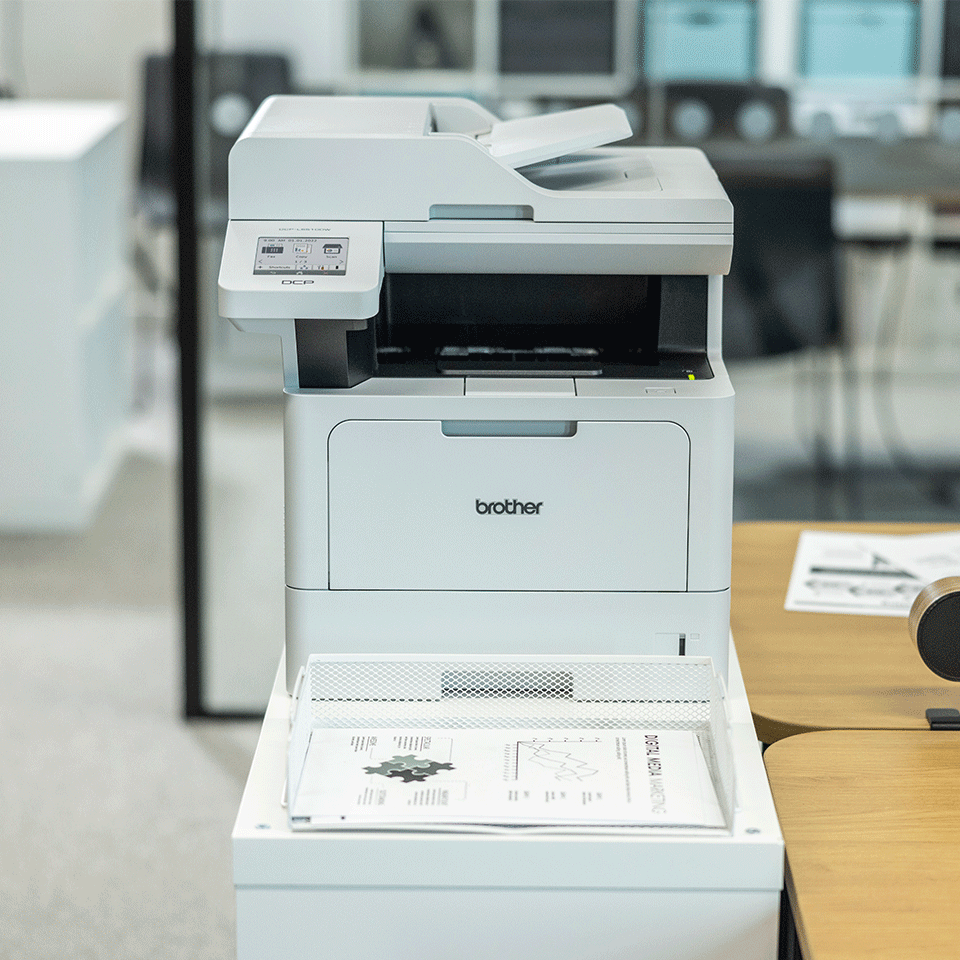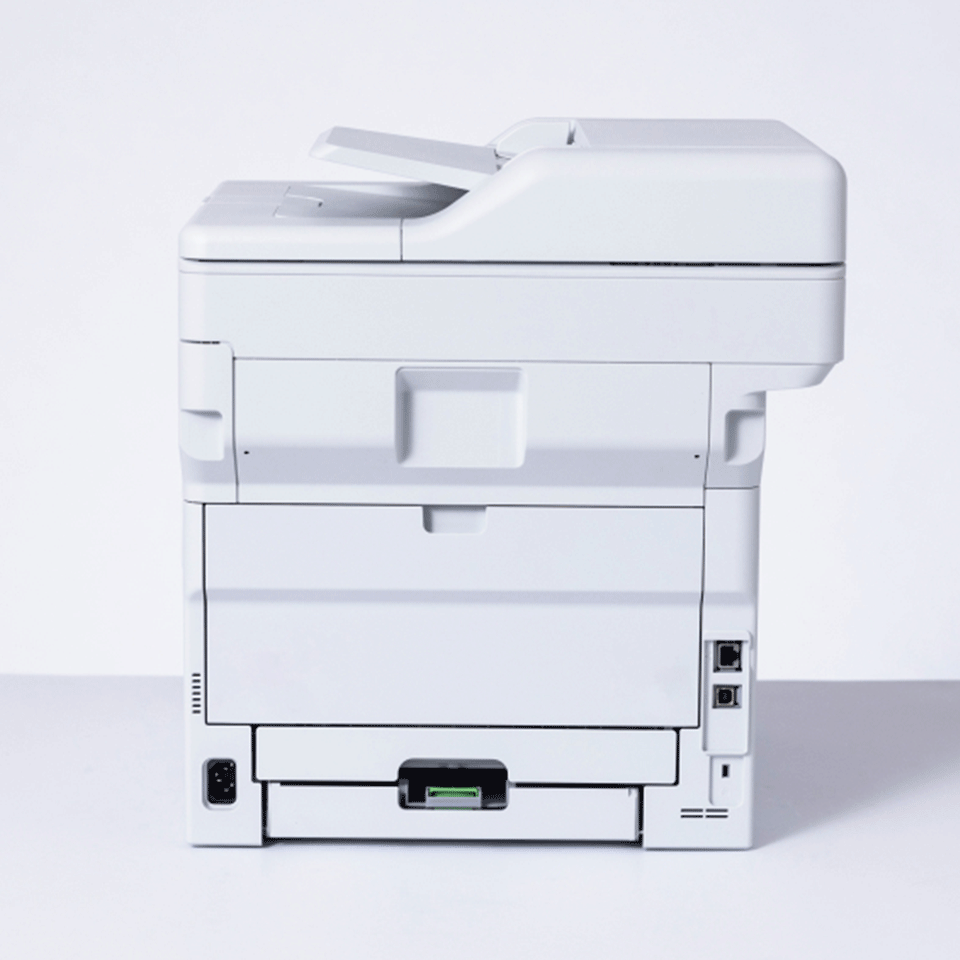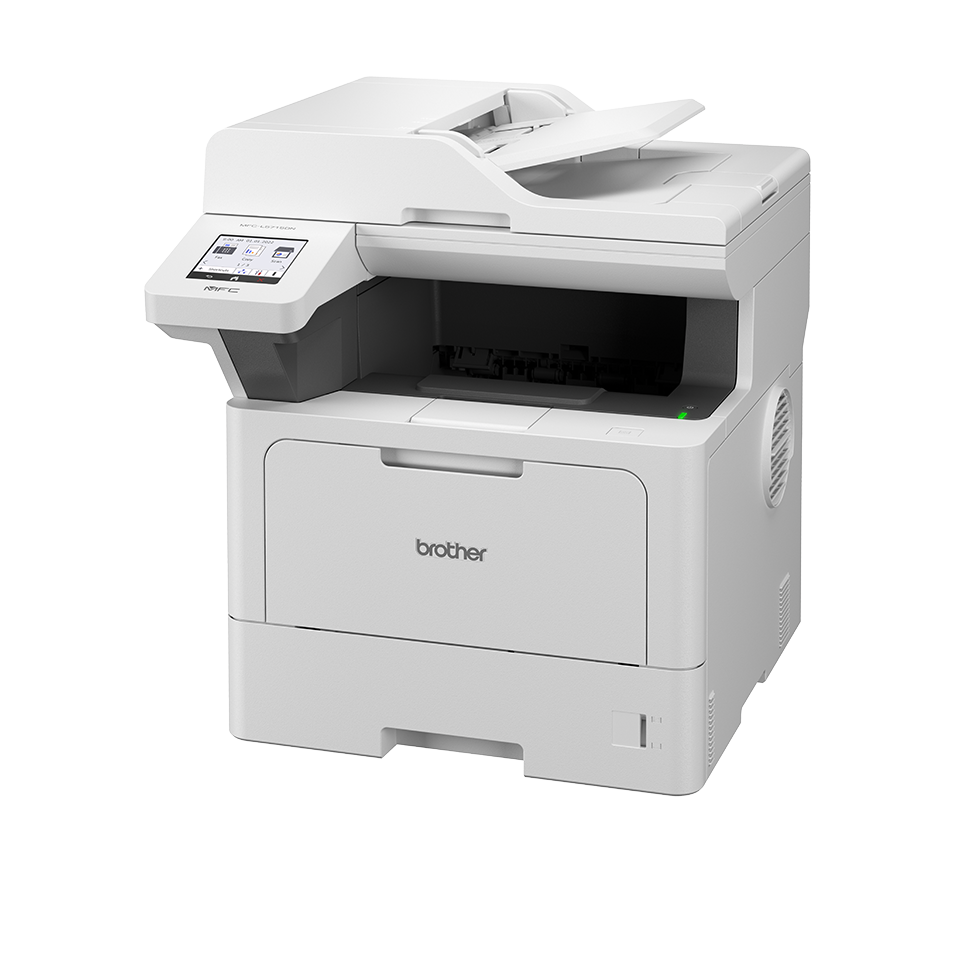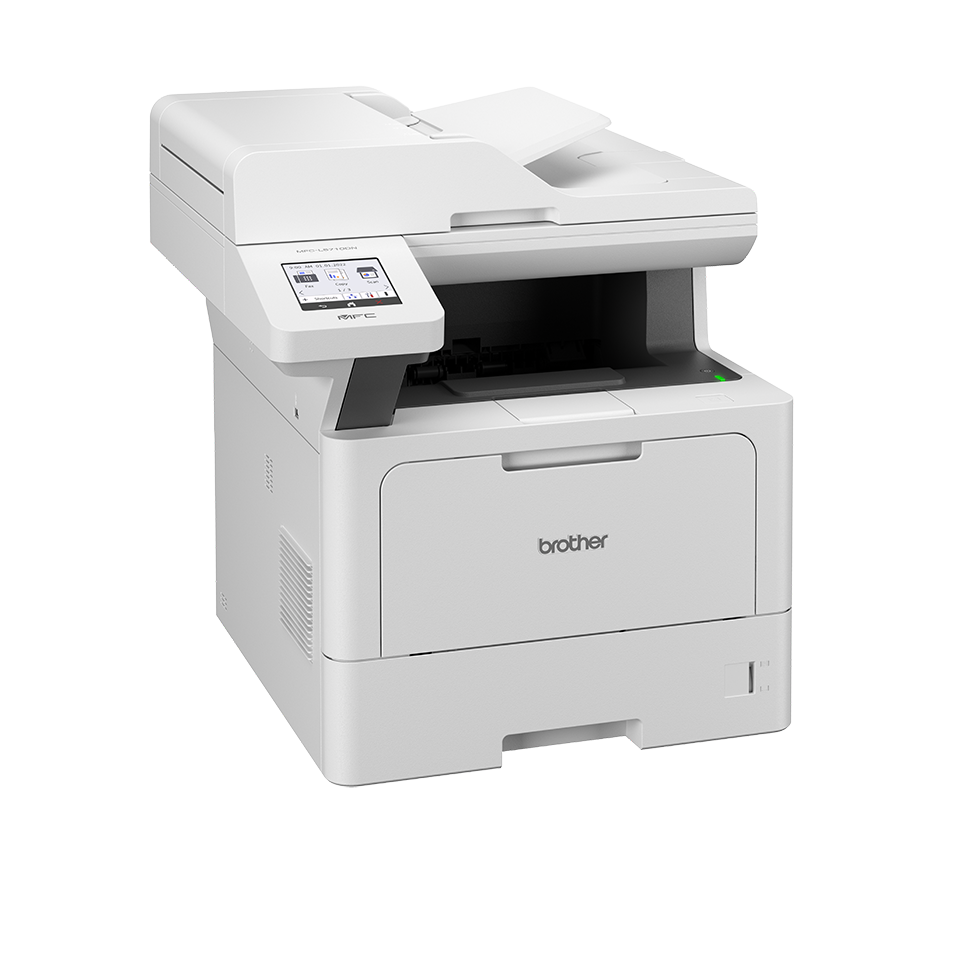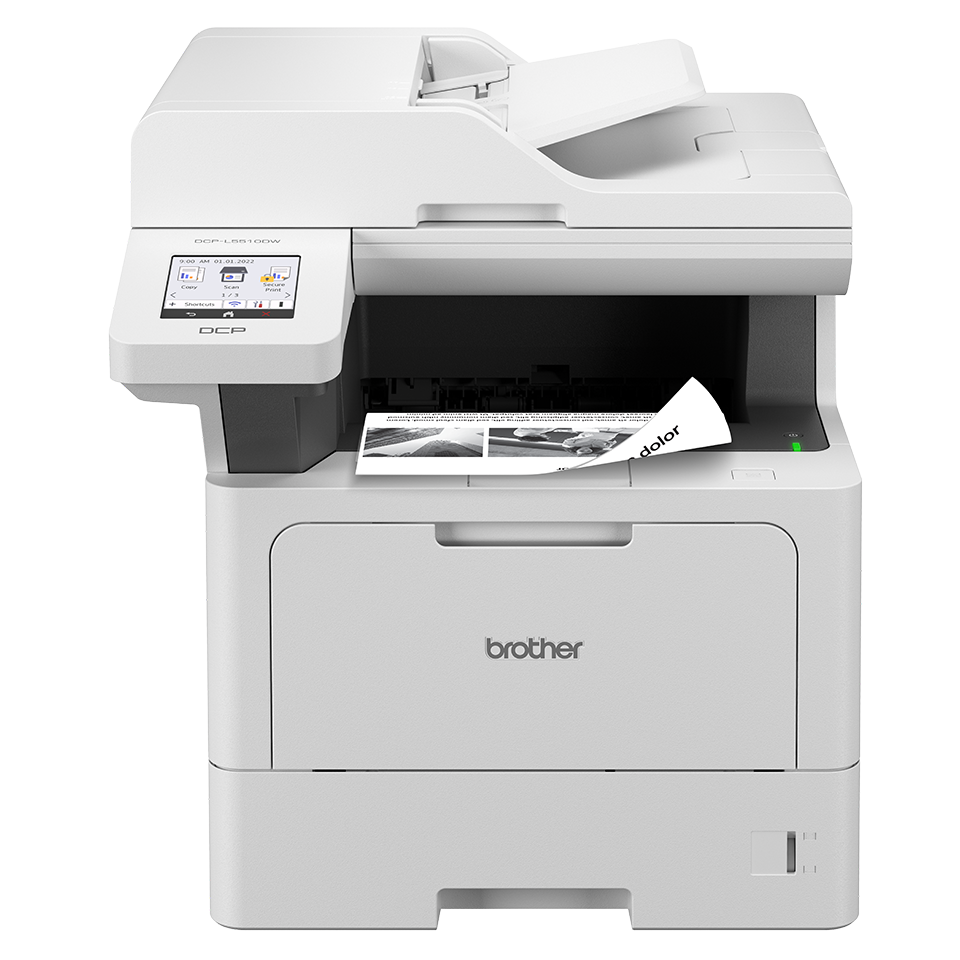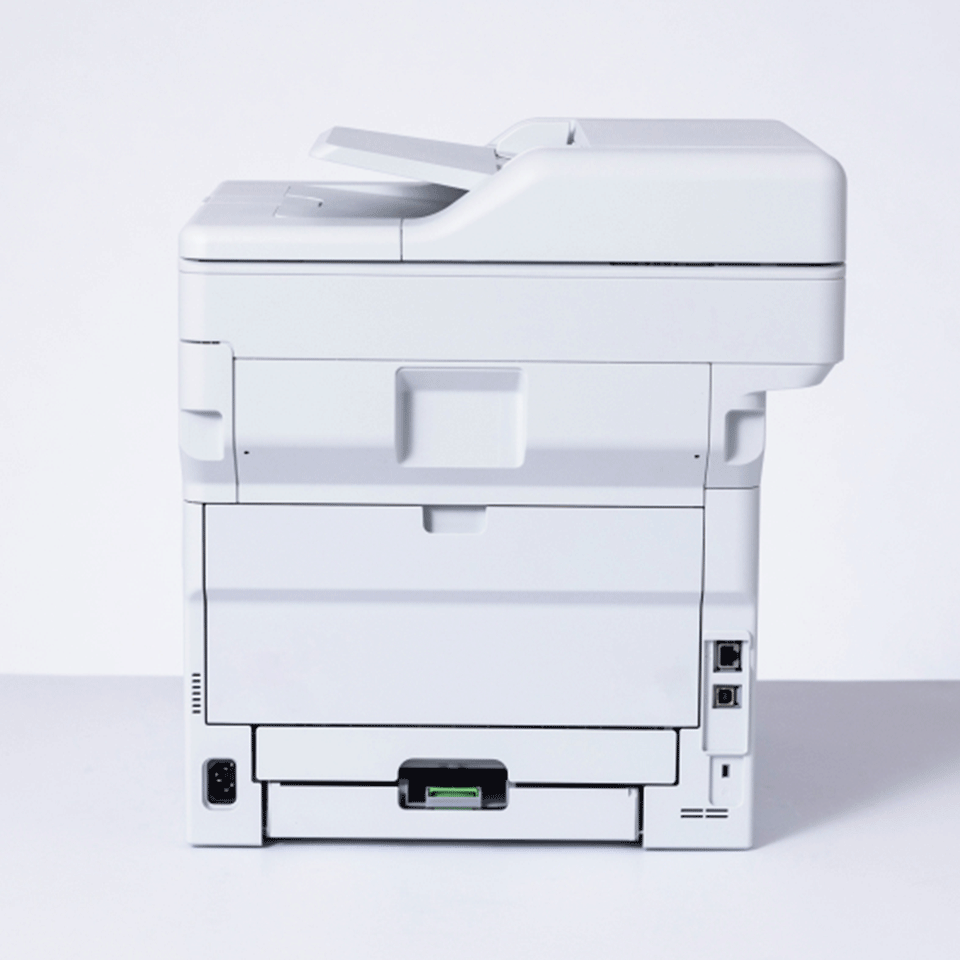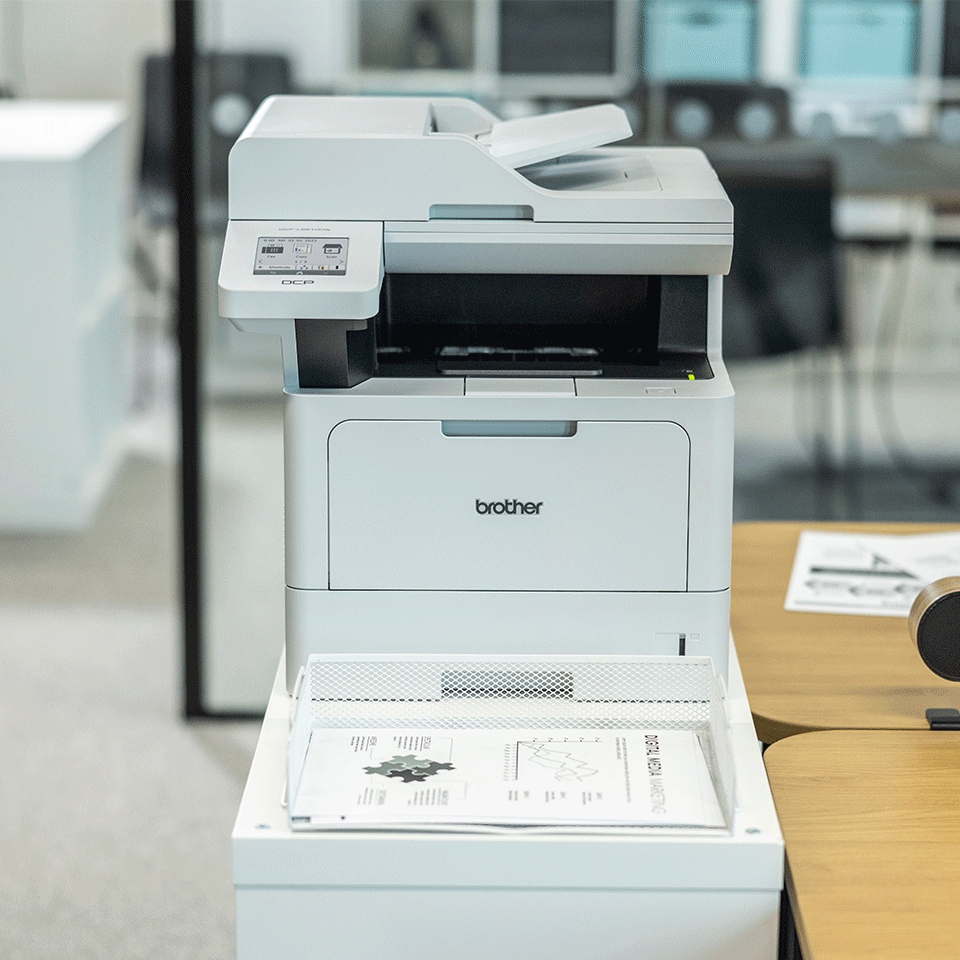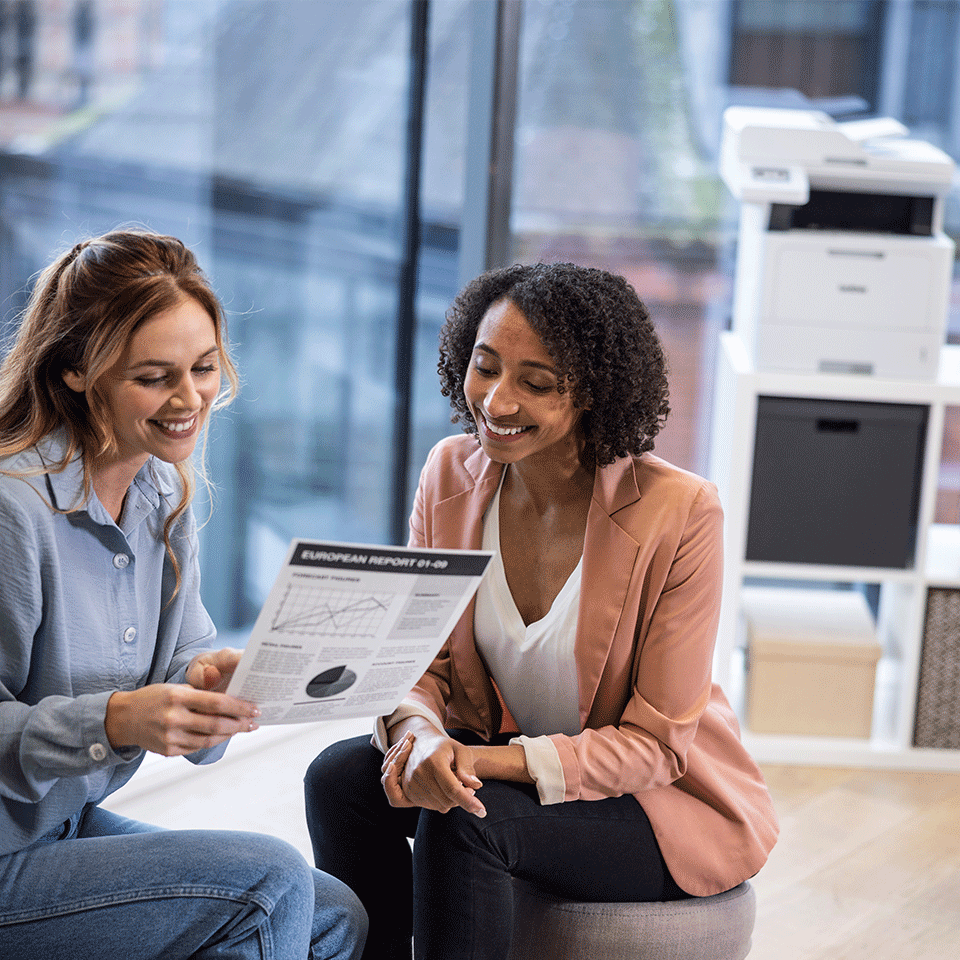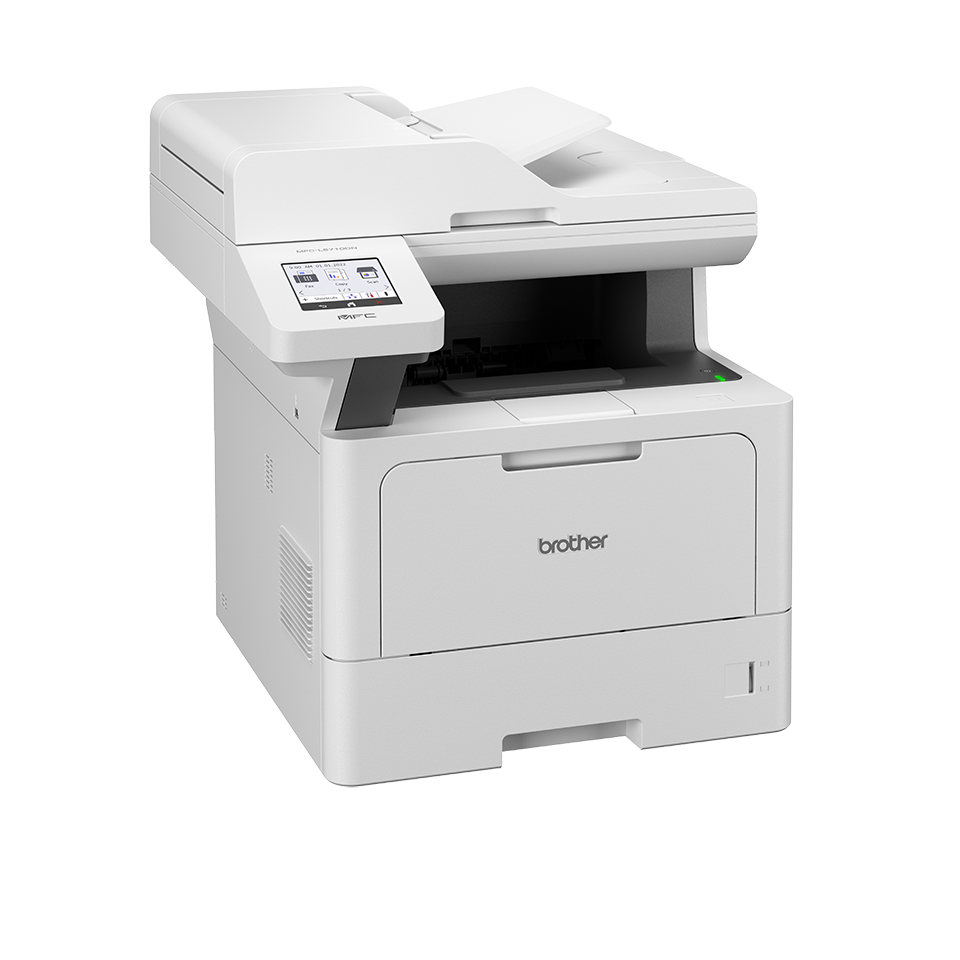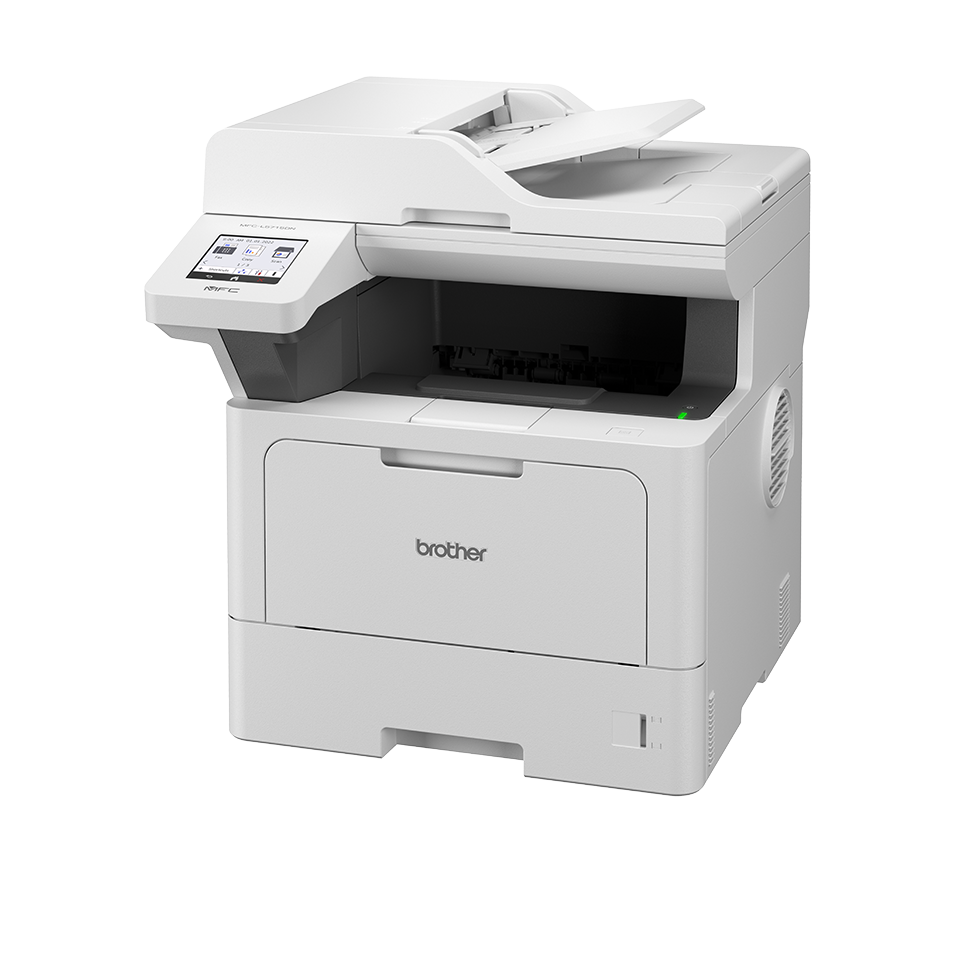 MFCL5710DN
High-speed, high-quality multifunction network business printing and scanning. With flexible paper handling options.
Productinformatie
Print up to 48 pages per minute
2-Sided print, up to 24 sides per minute
2-Sided scan, up to 56 images per minute3
Gigabit ethernet
50 Sheet 2-Sided Automatic Document Feeder (ADF)11
250 sheet paper input tray expandable up to 1,29011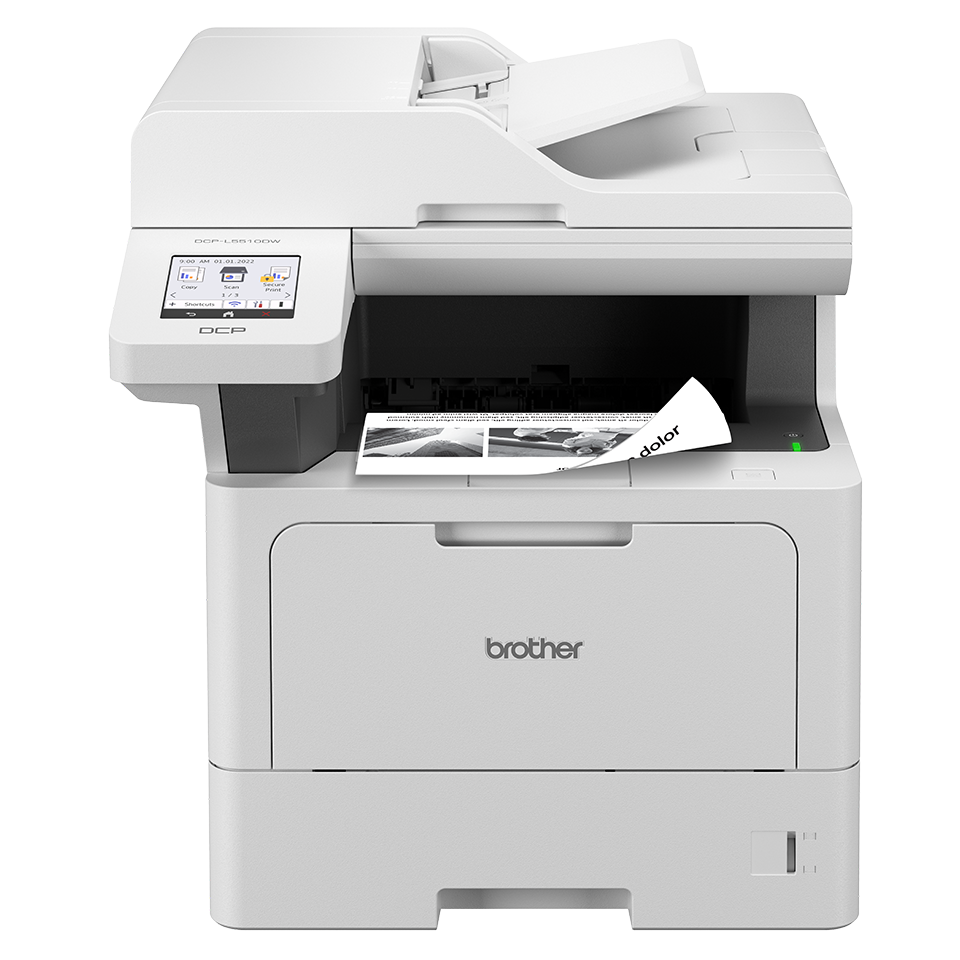 Beschrijving
Highly productive with fast, high-quality printing and scanning. Built for business, this intelligent multifunction printer is designed to deliver a user-friendly, professional experience that your business can depend on. Together with:
8.9cm Colour touchscreen
512MB internal memory
Comes with 3,000 page yield toner,11,000 maximum yield available7
Compatible with Brother and 3rd Party solutions include Kofax, YSoft and more19
Available under a managed print service (MPS) contract
.
Specificaties
General
| | |
| --- | --- |
| Printer Type | Zwart-wit |
| Function | Kopiëren, Faxen, Printen, Scannen |
| Technology | Laser |
| Laser Classification | Klasse 1 laserproduct |
| Maximum Paper Size | A4 |
| Connectivity | USB, Bekabeld netwerk |
| Memory | Intern (512 MB) |
| Control Panel | Touchscreen |
| Display | Nee (8,9 cm kleurentouchscreen) |
Printing
| | |
| --- | --- |
| One Sided Print Speed A4 Mono | 48 |
| Two Sided Print Speed A4 Mono | 24 |
| First print out time | Zwart-wit (Up to 6.7 Seconds) |
| Mobile Print | Ja |
| Automatic 2 sided print | Ja |
| Resolution | Tot 1.200 x 1.200 dpi |
| Print Languages | PCL6, PDF Versie 1.7, BR-Script3, IBM Proprinter XL, Epson FX-850 |
| Quiet Mode | Ja |
| Embedded Fonts | PCL (73 schaalbare lettertypen), Postscript (66 schaalbare lettertypen), 12 bitmap lettertypen |
| Printer Functions | N-in-1 printen, Poster printen, ID printen, Boekje printen, Afdrukprofielen, Watermerk printen, Handmatig dubbelzijdig printen, Carbon copy, Documenten scheiden, Papier koppelen aan een papierlade, Omgekeerd printen, Beveiligd printen, Papierlade overslaan, Printmelding versturen, Direct printen, Toner Save Mode |
| Embedded Barcodes PCL | 16 bar codes fonts - Code39, Codabar, Code128 (set A, set B, set C), Code93, EAN128 (set A, set B, set C), EAN-13, FIM (US-PostNet), GS1Databar, Interleaved 2 of 5, ISBN (EAN), ISBN (UPC-E), MSI, UPC-A, UPC-E, EAN-8 |
Printer Drivers
| | |
| --- | --- |
| Printer Drivers | ChromeOS (Supports native ChromeOS printing), Linux (CUPS, LPD/LPRng (x86/x64 environment)), macOS (We recommend using AirPrint from 11,0,x), PCL Drivers (Generic PCL XL driver), PostScript (Driver for Windows that enables you to print to any network or locally connected Brother laser printer that supports PostScript), Windows (11), Visit support,brother,com for the full list of supported OS and to download the latest drivers and software, |
Paper Handling (11)
| | |
| --- | --- |
| Paper input | Universele papierinvoer (100 vel), Standaard papierlade (250 vel), ADF (automatische documentinvoer) (50 vel) |
| Paper output | Face Down (150 sheets) |
| Media Sizes Standard | Standaard papierlade (A4, Letter, A5, A5 (lange zijde), A6, Executive, Legal, Folio, B5, Mexico Legal, India Legal, 16K, A4 short (270mm)), Breedte: 76,2 mm tot 216 mm, lengte: 116 mm tot 355,6 mm (A4), ADF (automatische documentinvoer) (Breedte: 105 mm tot 215,9 mm - Lengte: 147,6 mm tot 355,6 mm), Universele papierinvoer (Com-10 envelop, Monarch envelop, DL envelop, C5 envelop, Width 69.8 to 215.9 mm, Length 127 to 355.6 mm, Envelope), Glasplaat (Up to A4/Letter) |
| Media Types and Weights | Standaard papierlade (Standaard papier, Gerecycled papier, 60 - 163 g/m2, Gekleurd en briefpapier, Dun papier, Dik papier), Universele papierinvoer (Standaard papier, Gerecycled papier, Band papier, Gekleurd en briefpapier, Dun papier, Dikker papier, Dik papier, Enveloppen, Labels), ADF (automatische documentinvoer) (64 - 90 g/m2, Normaal papier, Standaard papier) |
Copy
| | |
| --- | --- |
| Copy Functions | Meervoudig kopiëren / stapelen /sorteren, Vergroten / verkleinen %, N in 1 kopiëren, 2-in-1 ID kopiëren, Bonnen kopiëren, Meervoudig kopiëren |
| FCOT | Mono (8.7 seconden) |
| Grey Scale | 256 grijsniveaus (8 bit) |
| One Sided Copy Speed A4 Mono | 48 |
Scanning
| | |
| --- | --- |
| Scanner type | Dual CIS (Contact Image Sensor) |
| Resolution | Geïnterpoleerd (Tot 19200 x 19200dpi), Colour (600 x 600dpi), Kleur (1.200 x 1.200dpi), Glasplaat, ADF |
| Colour Depth | Intern, 48 bit kleurverwerking, Extern, 24 bit kleurverwerking |
| Inkjet Scan Grey Scale | Extern (8 bit kleurverwerking), Intern (16 bit kleurverwerking) |
| One Sided Scan Speed A4 Colour (3) | 20 |
| One Sided Scan Speed A4 Mono (3) | 28 |
| Two Sided Scan Speed A4 Colour (3) | 40 |
| Two Sided Scan Speed A4 Mono (3) | 56 |
Scanner functions
| | |
| --- | --- |
| Standard Functions | Scan naar (USB, Email server, Scannen naar netwerkmap, Microsoft Office, SharePoint, SFTP, FTP, Bestand, Afbeelding, OCR, E-mail) |
| Scan Profiles | 25 instelbare netwerken |
| Scan Features | Blanco pagina's overslaan, Automatisch rechtzetten, Verwerking op de achtergrond, Teken correctie, Kleur verwijderen, Randen benadrukken, Randen opvullen, Ruis verminderen, Beeld draaien, PDF splitsen, PDF meerdere pagina's |
| Direct Scan | Ja |
| Document Separation | Ja |
Drivers
| | |
| --- | --- |
| Scan Drivers | Linux ( SANE), Macintosh ( AirPrint Scanning), Windows (Windows 11), ChromeOS (Supports native ChromeOS scanning), Ga naar support.brother.com voor de volledige lijst met ondersteunde besturingssystemen en om de nieuwste drivers en software te downloaden. |
Fax
| | |
| --- | --- |
| Fax | Auto reductioe, Broadcasting, Distinctive Ring Detection (UK, DK only), Error Correction Mode (ECM), Grijswaarden, Geheugen verzending, Ontvangen zonder papier, PC-Fax ontvangen en verzenden, Automaische redail, Chain dialling, Cover pagina, Fax doorsturen, Fax stempel, Telefoon index, Automatisch dubbelzijdig faxen, Fax naar server, Batch transmissie, Internet Fax (I-Fax), Fax modem, Op afstand ophalen, Station ID |
Fleet Management Tools
| | |
| --- | --- |
| Fleet Management Tools | LAN/WAN management software (BRAdmin Professional), Unattended Installer, MSI Installer, Embedded Web Server, Driver Deployment Wizard, Mass Deployment Tool, Status monitor |
Operating Systems And Software
| | |
| --- | --- |
| Software supplied - Windows | Software voor Windows (Brother iPrint&Scan(17) , Kofax PaperPort), Software voor macOS (Brother iPrint&Scan voor desktop(17) ), Hulpprogramma's, Eenvoudige configuratie |
Supplies And Accessories
| | |
| --- | --- |
| Toner | Meegeleverde toner (BK Toner), BK (TN3600 BK - 3000 pages, TN-3600XL BK - 6.000 pagina's, TN-3600XXL BK - 1.1000 pagina's), BK Toner (3.000 pagina's) |
| Optional accessories | Card holder (CH-1000), Filter houder (FH-1100), Paper trays (Onderste lade - 250 vel, Onderste lade - 520 vel, Maximum combinations), Onderste lade - 250 vel (LT-5505), Onderste lade - 520 vel (LT-6505), Maximum combinations (2 x LT-5505 or 2 x LT-6505 or 1 x LT-5505 + 1 x LT-6505) |
Carton Contents
| | |
| --- | --- |
| Carton Contents | Netsnoer, Installatiehandleiding, Garantie, Apparaat, Verbruiksartikelen, Drum unit |
Dimensions And Weights
| | |
| --- | --- |
| Weight With Carton | 20.3 |
| Dimentions With Carton | 549mm (W) x 597mm (D) x 580mm (H) |
| Weight Without Carton | 16.6 |
| Dimentions Without Carton | 417mm (W) x 461mm (D) x 448mm (H) |
Duty Cycle
| | |
| --- | --- |
| Recommended Monthly Volume | Tot 5.000 pagina's |
Operating Environment
| | |
| --- | --- |
| Power Requirement | AC (220-240V AC 50/60Hz) |
| Power Consumption | Afdrukken in stille modus (430.0W), Stroom uit (0.05W), Kopiëren in stille modus (430W), Gereed (31W), Kopiëren (680W), Afdrukken (670W), Slaapstand (5.9W), Diepe slaap (0.6W) |
| Sound Power | Diepe slaapstand (Niet waarneembaar), Gereed (<4.90B(A)), Mono (<6.54B(A), <7.02B(A)), Printing, Stille modus |
| Sound Pressure (12) | Stille modus (50,0 dB), Gereed (35,0 dB), Printen (54,0 dB) |
| TEC Value | 0.59 |
| Operating | Humidity % (20 - 80%), Degrees Celsius (10°C - 32,5°C), Degrees Fahrenheit (50°F - 90,5°F) |
| Storage | Graden Celcius (0°C - 40°C), Vochtigheidsgraad (36 - 85%), Graden Fahrenheit (32°F - 104°F) |
Environmental
| | |
| --- | --- |
| Environmental | Blue Angel, Nordic Swan, GS keurmerk |
Address Book
| | |
| --- | --- |
| Address Book | Snel verzendknoppen (300), Groep nummers (20), LDAP |
Connectivity
| | |
| --- | --- |
| Local interface | USB 2.0 Host (USB 2.0 host (voorzijde)), USB 2.0 |
| Wired Interface | Gigabit ethernet (10Base-T/100Base-TX/1000Base-T) |
| Wireless Setup Support | Nee |
| Wireless Applications | Nee |
| WiFi Direct TM | Nee |
Mobile and web connectivity
| | |
| --- | --- |
| Mobile and Web Connectivity | Brother Mobile Connect (Android, iPad / iPhone), Apple AirPrint, Brother Print Service Plugin, Mopria®, Brother Apps, Web Connect |
Security features
| | |
| --- | --- |
| Wired Network Security | SSL/TLS (IPPS, HTTPS, FTPS, SMTP, POP3, IMAP4), 802,1xWired (EAP-MD5, EAP-FAST, PEAP, EAP-TLS, EAP-TTLS), APOP, SMTP-AUTH, SNMP v3, Kerberos, IPsec |
| IP Filter | Ja |
| IPv4 | ARP, RARP, BOOTP, DHCP, APIPA (AutoIP), WINS/NetBIOS name resolution, DNSResolver, LLMNR responder, LPR/LPD, Custom Raw Port/Port9100, SMTP Client, SNMPv1/v2c/v3, TFTP server, ICMP, Web Services (Print), Web Services (Scan), SNTPClient, LDAP, CIFS Client, FTP Client, POP3 Client, IMAP4 Client, mDNS, IPP/IPPS, FTP Server, HTTP/HTTPS Server, TFTP client, TELNET Server, LDAPS, Syslog |
| IPv6 | NDP, RA, DNS Resolver, mDNS, LLMNR responder, LPR/LPD, Custom Raw Port / Port9100, IPP/IPPS, SMTP Client, FTP Server, FTP Client, CIFS Client, TELNET Server, SNMPv1/v2c/v3, HTTP/HTTPS Server, TFTP client, TFTP server, ICMPv6, SNTP Client, LDAP, Web Services (Print), Web Services(Scan), Syslog, IMAP4, POP3 |
| Features | Firmware bijwerken, Port-based Network Access Control, Meldingen per e-mail, Rapporten per e-mail, Secure Function Lock 3,0, Instellingen vergrendelen, Secure Key Management, Beveiligd printen, Automatische inbreuk detectie, Beveiligd printen via de Cloud, Active Directory/LDAP verificatie, Restrict network protocols, Print logboek opslaan, Digitaal ondertekende firmware, Syslog |